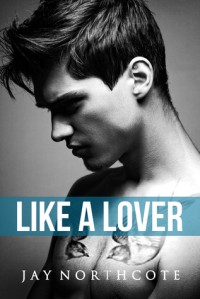 4.25 HEARTS
--
Before reading
:
I came here for the rent boy. *nods*
After reading
: Well hell, I think this might be my fave Northcote book so far!
Let me clarify: the story is
4.5 Hearts
, narration is about a
4
. So I'm averaging to get my rating.
I write this review with eyes dilated and brains slowly leaking through my ears. Because the story...
Braingasm. It's a thing.
Not bad for hot vanilla.
Josh is a university student who pays his way through school with the one talent he's really good at: sex. When a client bails one night at a bar, he sees a new hot ginger haired prospect in Rupert. (Now I know what you're thinking. You imagined Rupert Grint when I said ginger haired Rupert. Right? Is it only me? I know it's not just me.)
Rupert is a few years older, slightly well off due to an inheritance and works in the IT department. He's also socially awkward, had a challenging home life (mom's not supportive and his stepdad to be homophobic) and is single. Rupert is sort of a loner.
Josh saw easy money in the beginning. But...still waters run deep. That first night blew Josh's mind.
As did Rupert's.
As did mine's.
j/k it was that
mirror scene
that topped it for me
When Josh and Rupert are near any bed or flat surface, they ooze sexual chemistry from their pores. It's damn near tangible. And the narrator, Mark Steadman, did a decent job of capturing the hot between the sheets (or mirror) moments. I've been spoiled by another Brit narrator, so it's hard not to compare. But Steadman is just like his name, steady. He has a calming, clear voice. He ramps it up when the boys are ready to go. And my favorite word he said was "arse". He made it breathy and sexy. *shrugs* Who knew?
For me, Northcote's writing can be hit or miss. Or I should say strong start, fizzled middle and then a soft ending. And with "
Like a Lover
", the second thirds were stronger. It's not a unique rent boy romance, but all parts of the story work. There were fewer slower moments. I actually listened to the audiobook twice. I never do that.
I did read along with audiobook, I don't think it added to listening. (I found the story to be stronger) I enjoyed reading Rupert and Josh's feelings change into something more. Though there was a point when Rupert was turning manipulative, Josh got the message. It's just his feelings got in the way. I liked the side characters (Steadman's voices for ladies in the book had me giggling). I didn't read any of the other Housemates books, I wasn't lost or found it hard to follow along. It can be read as a standalone (Though I'll be rectifying this error shortly)
We get to read Josh and Rupert fall for each other, make stupid mistakes and not drag them out for too long. So client/john to friends to fake boyfriends who bone to well...more.
Thankfully, it ends in with a HEA.
Hot vanilla read with some feels, low angst and memorable moments can be found here.
Recommended
if you're in the mood for that.