Three Hearts
--

"I approve. Go out and fuck all the unicorns you want."
I read the blurb and I won't lie...my mind went straight to uniporn.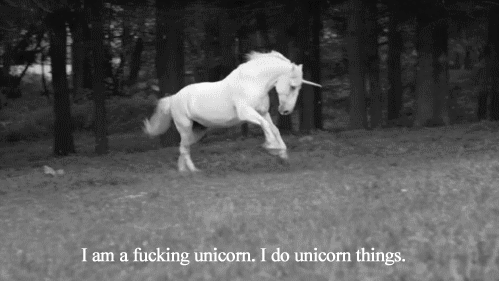 Virgin...unicorn...somebody was going to be defiling that virgin...
Not this story.
I know, I know uniporn enthusiasts...better luck next time.
Bell Ellis tried a thing, a unicorn shifter romance between a 3000+ year old shifter and a 25 year old virgin someplace set in present day East Coast in
"More Beautiful Than a Unicorn"
. And while the unicorn mythology used is
4 Hearts
quality just for being interesting. (seriously this is one of the coolest unicorn history ever), the story is a tepid
2 Hearts
. I'll average, because I girl-nerded and looked up Indian unicorns (I'll get to that later) So
3 Hearts
for me (but it's a tentative 3).
Essentially, this is a loner meets his dream man romance. But the interesting characteristics couldn't save the kind of hum drum tone. Tobias meets Amar, a mysterious Indian man, one night after being saved by him from a pack of teens. Tobias also sees a unicorn staring at him at night...coincidence? You'll have to read to find out. The unicorn vision was more prevalent than Amar who can only see him once a month, at night.
The romance? *sigh* Tobias was depressing and he got even more depressed during the story Then he had a turnabout for instalove? I worry about his mental stability if it goes all to shit for a man. What in the world was holding his sanity in for the previous twenty five years that he just throws all away for an equivalent of half a day together?
Let's get into his only friend's name is Marzipan and NO ONE MENTIONED...why she was named after the sweet treat. Granted, Marzipan had the best line in the story. But she was weird. You know what else is weird, the kidnapping angle. *tilts head* Too rushed, too easy, too odd.
The Indian unicorn angle was the saving grace for this short. I loved the virgin and unicorn angle. And the way Tobias sacrificed himself for that angle was a decent touch, a little martyrish but nice. There was hints of magic: Amar's history, the unicorn culture as a whole, there was even a brief mention of magic with the first kiss.
But the tone pounds the moments of fun down to the ground.
Do I wish it was longer?
No. What I do wish is that the story got to have Amar's POV to help balance the boring with Tobias.
Different type of unicorn romance with a few memorable moments.
For Ann's & the unicorns' #ShifterSundayFunday reviews
:
A copy provided for an honest review.