I felt just as clueless as a Sean Michael MC about this story before reading, [b:Achievement: Tentacle Lust|22728075|Achievement Tentacle Lust|NK Layne|https://d.gr-assets.com/books/1405413724s/22728075.jpg|42262419]. Read awesome
Cupcake's
review. Figured what the hell, let's do this shit! I love tentacles.
I still feel even more clueless like a Sean Michael character. So, um, like yes? Um, somebody was needing? I think. I'm not sure.
What I am sure of is that this is
P.W.P.
And if there is anything Baby knows about, it's PWP.
So there's this fuckslut human named Alec. Alec likes tentacles in his fuckhole, don't you Alec?
*grabs Alec's hair and shows his slutty mouth to the reader*
Let's leave Alec back to getting his holes filled with squirmy tentacles...he doesn't discriminate. Right, slut?
*slurps and moans can be heard quite sluttily*

*snaps fingers*
He's busy tentsexing, excuse him, folks.
Anyway Alec the slut was kidnapped by a tentacled monster with a beak named, Tente, who is in fertilization heat and has a list of tent fucking that he wants to go through. He thought he grabbed a woman (because who can tell the difference in a scuba suit says Tente) and was looking for "tight pussy" but settled for asspussy instead.
Enter Alex, the newfound tentacle slut who can't stop fucking those buzzing tentacles.
Now the prompt picture is this piece of cephalopod candy:
Before you start flinging your knickers off...that's not Tente. That's the dastardly, inker and tentsex-blocking, Squalo. Squalo joins in with his tentacles that changed the eight appendage fuckfest into sixteen.
Tente's more on the homely side with a beak, slimy, buzzy tentacles, fleshy mantle and octopus like bald head...basically he's Zoidberg without the claws, add a beak: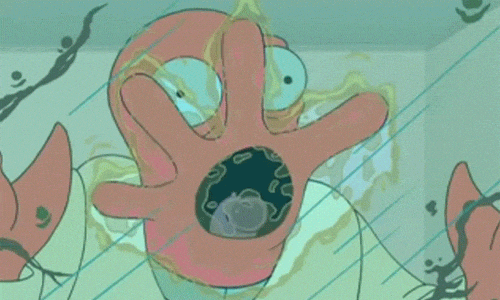 Doesn't that just make you...slime?
*cringes*
So the tentsex turns in menage because hello Alec's a slut and wants those tentacles DEEP. Tentaclesex menage happens...and it wasn't that bad. I was tingly at a part, maybe? Possibly? I dunno? I'm confused.
The story is not the best tentacle sex story, I've read but it was full of fun. So...
2.5 stars rounded up
.
Um? Yes?
Thanks to the author and the team for this story. :)